THAIFEX JAPAN PAVILION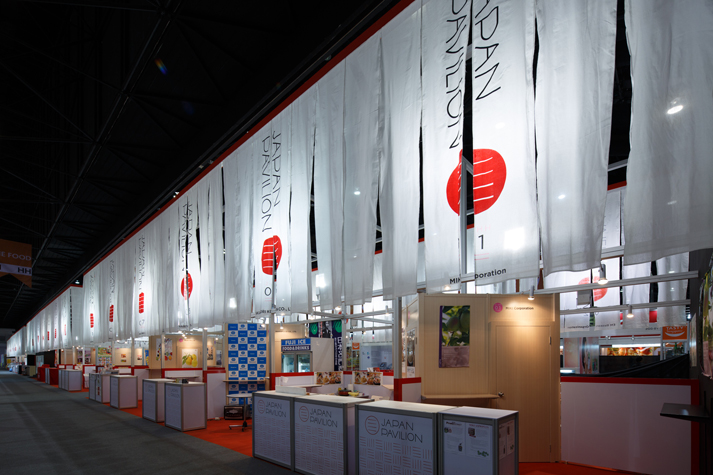 THAIFEX JAPAN PAVILION
2014.05.
タイ バンコク
Exhibition


Photo:Ikunori Yamamoto
100mの長さに及ぶジャパンパビリオン。空間でのれんが揺らめきます。
In 2014, celebrating the 10th anniversary of THAIFEX, JAPAN set up a large, 100-meter-long Japan Pavilion as a partner country.
To make the most out of the 100-meter length, we hung "Noren (traditional shop curtains)" around to make it look the pavilion as "one Japan", to elaborate as one big sign.
Placing shop curtains provides another meaning "franchising business" of the Japanese brands (since the business owners shared "shop curtains" when their pupils become their own to open a new shop).
The curtains over the entire zone will gently sway around as the visitors move, creating a dynamic sign that attracts eyes of visitors.
In addition, shining a spotlight on the curtains from inside, the sign becomes more distinctive with the light, warmly welcoming visitors.
The fluttering of curtains, the clean cotton fabric, and the white wood color accentuate the sign with a sense of Japanese innocence and dignity, as well as sense of safety and luxury of Japanese brands.
The symbol mark illustrates two pairs of chopsticks facing each other, representing "exchange through food" between Japan and the visitors. Adding the Hinomaru (Japanese flag) designed like a tray appeals to visitors that this is the Japanese pavilion.
The shape of the booths and the elongated curtains are linked to the symbol mark.
タイのバンコクで行われた食の展示会THAIFEX。
THAIFEX10周年の2014年、JAPANはパートナーカントリーとして大々的に100mの長さに及ぶジャパンパビリオンを設置。
100mの長さを生かし、1つの「日本」として見えてくるように、「のれん」をぐるりとかけることで、全体でひとつの大きなサインとしました。
又、のれんをかけることで、「日本ブランド」の「暖簾分け」を表現。
全体にかけられた「のれん」は、会場の来場者のうごきで、緩やかに波打ち、来場者の目を惹きつける動きのあるサインとなります。
又、「のれん」に内側よりスポットライトをあてることで、光照明を兼ねたサインとなり、来場者を暖かく迎え入れます。
「のれん」のはためき、清潔感のある木綿の生地、そして白木の色合いは、、サインとして日本的な潔さを感じさせると共に、安全性や高級感といったジャパンブランドを感じさせます。
シンボルマークは、向かい合う2膳のお箸で、日本と来場者の「食を通じての交流」を表現。お盆を連想させる日の丸をプラスすることで、来場者に「日本」であることをアピール。
ブース形状と暖簾の細長いカタチがシンボルマークにリンクします。
ディレクション・デザイン : SOL style
Graphic : オフタリ