徳島×藍染展‐プロモーションする展示台-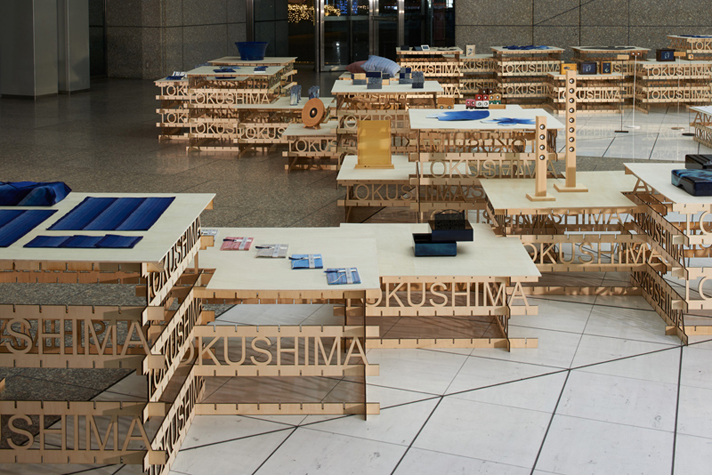 徳島×藍染展‐プロモーションする展示台-
Tokushima × Aizome (Indigo dyeing) exhibition
2013
--
Exhibition



Photo : Ikunori Yamamoto
Exhibitions : Tokushima × Aizome ~Collaboration of Aizome and different fabrics~
Tokushima x Indigo Exhibition is a spatial design to display products from Tokushima Prefecture in Japan.
In order to convey the appeals of Tokushima, all of the exhibition tables are composed of 240 panels with the word "TOKUSHIMA" on them to disseminate the appeals of Tokushima with brilliant visual impact.
By placing panels in many slits at the top and bottom of the panels, they can be combined both horizontally and vertically, creating an expansive venue design.
The set can be easily assembled and disassembled by the exhibitors, reducing the installation cost to zero. It can be packed light for transportation, making it easy to carry onto other prefectures, therefore has been used for exhibitions and events in various locations for more than six years.
とくしま地場製品新展開支援事業 開発製品 発表展示会
徳島市の「とくしま地場製品新展開支援事業」開発製品の発表展示会の会場デザイン。
展示台すべてを「TOKUSHIMA」という切り抜きパネルの組み合わせで構成することで、インパクトをもって徳島の魅力を伝える。
横にも縦にも自由に組み合わせられることで、自由な広がりをもった会場デザインとした。
出展者自らで簡単に組み立て、解体が可能な上、コンパクトにまとめられることで、運送・保管も容易。
各所の展示で何度も使用することができる。
第47回SDA賞 優秀賞 受賞
東京TDC賞2014 入選